This is an archived article and the information in the article may be outdated. Please look at the time stamp on the story to see when it was last updated.
A burglary suspect's daring jump to freedom left him flat on the pavement and behind bars.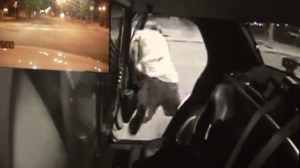 42-year-old Eric Simmons was arrested in Dayton, Ohio, after being accused of breaking into a home on Aug. 27, police said.
But when officers placed Simmons in their patrol car, they apparently neglected to handcuff him and left a back window down.
In a video recorded by a backseat camera, the suspect is seen reaching his arm out of the window, unlocking the door and tumbling out onto the street.
The officers quickly stopped the vehicle and handcuffed Simmons before returning him to the cruiser.