This is an archived article and the information in the article may be outdated. Please look at the time stamp on the story to see when it was last updated.
Police have found the stolen SUV used in the kidnapping of 13-year-old Hania Aguilar, but the North Carolina teen is still missing.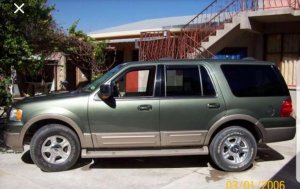 The vehicle was found just before 8 a.m. ET Thursday and is being processed by the FBI's Evidence Response Team, FBI spokeswoman Shelley Lynch of the agency's Charlotte office said.
It was found less than 10 miles from the mobile home park from which Hania vanished Monday.
Authorities had been searching in and around Lumberton, North Carolina, since then for a green 2002/2003 Ford Expedition.
Investigators had asked the public to help find the SUV, which was caught by surveillance cameras near Aguilar's home minutes after she was abducted.
What happened
Authorities are still trying to establish the details of Hania's disappearance.
A Spanish-speaking woman and man told a 911 operator Monday that a man stole the SUV, which had been running ahead of a morning ride to school, with a child inside, according to a CNN translation.
The FBI, after talking with people at the mobile home park, described her abduction this way: "A witness saw a male subject dressed in all black and wearing a yellow bandana force Hania into a relative's vehicle that was parked in the driveway."
Hania is Hispanic, about 5 feet tall and 125 pounds. She has black hair and brown eyes, and was last seen wearing blue jeans and a blue shirt with flowers, according to the FBI, which is investigating the case with the Lumberton Police Department.
Authorities have no reason to think Hania knew her abductor, they said Wednesday afternoon. The girl's family is cooperating with the investigation, they said.
The FBI is offering a $15,000 reward for information that leads to the girl.
Lumberton is in southeastern North Carolina, near Interstate 95 and is about 95 miles from Raleigh.