This is an archived article and the information in the article may be outdated. Please look at the time stamp on the story to see when it was last updated.
President Barack Obama said Wednesday that the world set a red line against chemical weapons use that he now seeks to apply to Syria, while a Senate committee approved a resolution authorizing the U.S. military attack that he is planning.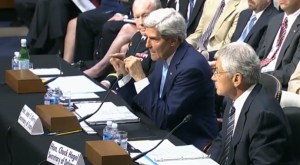 By a 10-7 vote, the Senate Foreign Relations Committee passed the resolution that authorizes a limited military response, giving Obama an initial victory in his push to win congressional approval.
The measure now goes to the full Senate for debate next week. The Democratic-led chamber is expected to pass it, but the outcome is less clear in the Republican-led House where top diplomatic and military officials made their case on Wednesday for action.
In Sweden on the first of a three-day overseas trip that includes the G-20 summit in Russia, Obama told reporters that the red line he spoke of last year regarding Syria's use of chemical weapons came from international treaties and past congressional action, rather than something he "made up."
Click here to read the full story on CNN.com.