This is an archived article and the information in the article may be outdated. Please look at the time stamp on the story to see when it was last updated.
DAMASCUS, Syria — Syria's foreign minister struck a defiant tone Tuesday amid growing international calls for a military response to the country's suspected use of chemical weapons, denying his nation is hindering inspectors and warning Western leaders against an attack.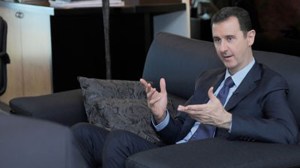 "Syria is not easy to swallow," Foreign Minister Walid Moallem said Tuesday at a news conference. "We have the materials to defend ourselves. We will surprise others."
British Prime Minister David Cameron's office recalled lawmakers from their summer vacation Tuesday to vote on a response to the alleged chemical attack.
His office also said the country's military was making contingency plans for a Syrian operation, joining U.S. officials who said Monday that President Barack Obama's administration was evaluating options for a military response to the suspected use of chemical agents against the Syrian rebel stronghold of Ghouta.
Click here to read the full story on CNN.com.