This is an archived article and the information in the article may be outdated. Please look at the time stamp on the story to see when it was last updated.
KABUL, Afghanistan — A group of attackers stormed the entrance to the presidential palace in Kabul early Tuesday — but they were quickly repelled, Afghan police said.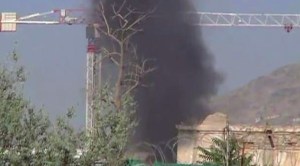 Three guards died in the attack and another was injured, the interior ministry said.
The Taliban claimed responsibility for the assault.
All attackers were killed, said U.S. Ambassador James B. Cunningham in a statement, condemning the attack. He called on the Taliban to cease violence and "come to the table to talk to the Afghanistan government about peace and reconciliation."
Click here to read the full story on CNN.com.