This is an archived article and the information in the article may be outdated. Please look at the time stamp on the story to see when it was last updated.
Taylor Swift met a unique fan of hers over the Christmas holiday.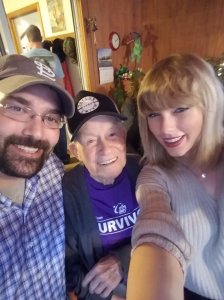 The singer surprised Cyrus Porter, a 96-year-old World War II veteran, at his Missouri home on Monday.
The moment Swift walked through the door, his family erupted into screams and tears.
The pop star posed for pictures and even brought along her guitar for an acoustic rendition of her hit "Shake It Off." Porter, who has 20 grandchildren, sang along with his family.
Porter, who has been to two of Swift's concerts, recently said in an interview with Ozarks First why he's proud to be a "Swifty."
"Look what she does," he said. "She puts on a show no one else puts on. I just enjoyed going to see 'em and her. I would as soon go see her right now as anybody!"