This is an archived article and the information in the article may be outdated. Please look at the time stamp on the story to see when it was last updated.
A schoolteacher who went with students onto a closed French Alps ski slope before an avalanche struck there and killed three people — two of whom were students he was in charge of — faces charges of involuntary manslaughter, a prosecutor announced Thursday.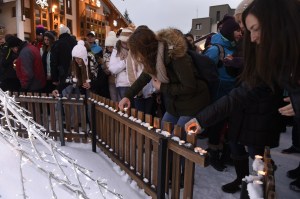 The physical education teacher accompanied 10 students from the St.-Exupery school in Lyon to a part of Les Deux Alpes ski resort that has been closed off since the start of the ski season — at first due to lack of snow, then due to a high avalanche risk — Grenoble prosecutor Jean-Yves Coquillat said.
Many signs and a safety net had been put up to keep people off the course. Yet the students and their teacher went over that net, said Coquillat, who noted that backcountry or off-piste skiing itself is not a crime.
The teacher, who is not a ski instructor, was among those caught up in Wednesday's avalanche, and was still in the hospital one day later with non-life-threatening injuries.
A 16-year-old girl was found dead on the closed ski slope, while a 14-year-old boy died after being transferred to a hospital. Another person outside the student group — a Ukrainian skier, who appeared to be alone — also died.
Some 80 military personnel, police and dog search-and-rescue teams converged on the site Wednesday afternoon, with authorities initially fearing that one person was still missing in addition to the three dead. But Coquillat made clear Thursday there were only three dead.
1 teacher denied students' request to ski closed slope
The very steep, expert-level slope where they were killed sat about 2,500 meters (8,200 feet) above sea level, Gilles Strappazzon, an official in the regional Isère government, told CNN affiliate BFMTV.
It also was in an area that was under a Level 3 (of a five-level scale) avalanche risk, meaning there was an above-average possibility of ruptures at high altitudes. This danger was compounded by the fact some 33 centimeters (13 inches) of fresh snow had fallen that day, a notable amount following a relatively dry and mild December.
The students involved in the avalanche were among 19 from St.-Exupery, and were accompanied by three teachers. Three of the students spent the day at a hotel while the other six skied less challenging runs. One teacher who rebuffed the 10 students' morning request to go onto the banned slope spent the afternoon at the hotel, while the teacher now facing charges then accompanied the more advanced student skiers, Coquillat said.
One person who belonged to a group of 15 Romanians and Hungarians who'd been backcountry skiing at the site expressed fears to police that they might have unknowingly set off the avalanche.
Authorities are still investigating the exact cause, as well as the teachers' roles. They plan to question the two other St.-Exupery teachers, other witnesses and surviving students who were found in shock but unharmed, according to the prosecutor. Those students were skiing on a different side of the closed slope when the avalanche struck and are now back in Lyon.