This is an archived article and the information in the article may be outdated. Please look at the time stamp on the story to see when it was last updated.
SPOKANE, Wash. — Police arrested one 16-year-old boy and are looking for another in connection with the beating death of an 88-year-old World War II veteran this week, authorities said Friday.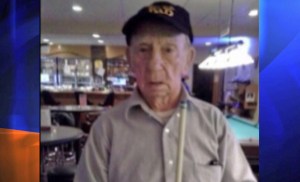 The arrested teen has been charged with first-degree robbery and first-degree murder. Police said they're looking for the other suspect, named by police as Kenan Adams-Kinard, 16.
Police said the victim — Delbert Belton — was beaten and left for dead by two teens outside a lounge in Spokane where he loved to go play pool.
The motive appears to be robbery, police spokeswoman Monique Cotton said Friday.
Click here to read the full story at CNN.com.
[protected-iframe id="5f88650a20a00190f9a1a4f1b8d23ee1-41641936-41847638″ info="http://i.cdn.turner.com/cnn/.element/apps/cvp/3.0/swf/cnn_embed_2x_container.swf?site=cnn&profile=desktop&context=embedwww&videoId=crime/2013/08/23/newday-periera-wwii-veteran-beaten-death.cnn&contentId=crime/2013/08/23/newday-periera-wwii-veteran-beaten-death.cnn" width="416″ height="234″]