This is an archived article and the information in the article may be outdated. Please look at the time stamp on the story to see when it was last updated.
A Coral Springs, Fla., teenager has become an Internet sensation after snapping a selfie that some people say was in poor taste.
Malik Whiter tweeted a picture of himself captioned "Selfie with my teacher while she having contractions."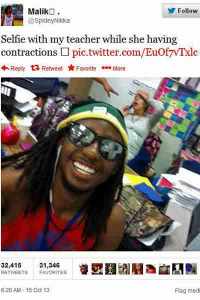 His instructor, identified as Susana Halleck by the Miami New Times, started experiencing contractions Tuesday in class at Coral Springs Charter School.
Malik quickly grabbed his phone and captured the moment.
The picture shows the junior flashing a big smile, as Ms. Halleck holds her head while talking on the phone.
Malik's TwitPic has been retweeted more than 32,000 times.
He told Local 10 News in Miami that Halleck is a wonderful teacher and he wanted to capture the rare moment.
But critics have taken to numerous blogs saying the picture is tacky.
For the record, Halleck's contractions were just a false alarm.
She quickly returned to work and is due in December, according to the Miami New Times.