This is an archived article and the information in the article may be outdated. Please look at the time stamp on the story to see when it was last updated.
The fatal beating of Lucas Leonard in the sanctuary of Word of Life Christian Church came after the teenager had "expressed a desire to leave" the secretive upstate New York church, New Hartford Police Chief Michael Inserra said Friday.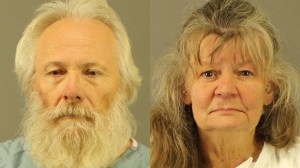 That wish, according to Inserra, apparently prompted a counseling session on the spiritual state of Lucas and his younger brother, Christopher. During the sessions, the teens were beaten with a cord and Lucas Leonard suffered injuries so severe that emergency room doctors thought he had been shot, Inserra said.
On the day their parents, Bruce T. Leonard, 65, and Deborah R. Leonard, 59, appeared in court on charges of first-degree manslaughter — a Class B felony — authorities disclosed a possible motive for a crime that has shaken a tiny village about 250 miles north of New York City. Four other church members were charged with second-degree assault, also a felony.
Judge William Virkler ruled the cases will go to the grand jury. The Leonards will remain in custody until the grand jury can hear evidence, and bail is $100,000 for each defendant.
Oneida County District Attorney Scott McNamara expects that by the time the case is presented to the grand jury there will be additional charges and more people charged as well.
A witness at a probable cause hearing told a judge the counseling session lasted 14 hours, beginning Sunday night and ending Monday morning. Daniel Irwin, who lives in the church, said the session ended when people thought Lucas had died.
A violent turn
Inserra told reporters the purpose for the counseling session was a key part of the investigation.
"The victim expressed a desire to leave the church and this is what may have initiated the session. We still have not concluded why the session turned so violent," he said.
Family members took Lucas, 19, by car Monday afternoon to a hospital in Utica, where he was pronounced dead.
His 17-year-old brother was hospitalized in serious condition after suffering blunt-force trauma injuries during the same church session, police said. It's unclear why Christopher Leonard was beaten.
The younger brother, who had to be drawn out by authorities from a hiding area in the church, is alert and cooperating, Inserra said.
The assaults occurred after a Sunday night service at the church. The so-called counseling session turned violent for some reason and the teens were repeatedly beaten through the night, according to the police chief.
Lucas was taken to the hospital after church members found he wasn't breathing, police said. At the hospital, Bruce Leonard accused the victim of molesting children as a possible justification for his injuries — an allegation that Inserra said is unfounded.
After the assaults, seven children at the church were turned over to local child welfare authorities.
"These children were interviewed at length … and they were examined by medical professionals," Inserra said. "There's absolutely no indication of any sexual abuse to any of these children."
Inserra said, "There is no evidence these brothers did anything. They are, at this point, true victims."
An autopsy showed Lucas suffered multiple contusions from blunt-force trauma to the torso and extremities, authorities said. A combination of the injuries plus the duration of assault contributed to his death. The beatings included blows to the genital area of the teens.
Inserra said doctors took an injury to Lucas' groin area to be "a gunshot wound, an entry wound."
Witness testimony
Irwin told the judge the counseling session took place after Sunday's service, which was attended by about 30 people.
Irwin said he saw Bruce Leonard strike Lucas repeatedly in the back with what he thought was a belt. Christopher also was struck in the back.
Irwin said he left the sanctuary and decided to move five young children from another room after hearing a loud voice from the session.
When the session ended at about 10 a.m. Monday Irwin's brother, who also is a defendant, came to him in a panic, he said.
Daniel Irwin said he overheard someone say, "Lucas is dead."
Irwin went to the sanctuary of the former school and saw Lucas on the floor. Irwin's mother was performing CPR on the teen, he said. Lucas' brother, Christopher, was hysterical, Irwin said.
The witness told the court that he had earlier seen Lucas on the floor, alert but "rolling around making a sustained monotone noise."
Another witness, State Police Sgt. Todd Grant, said Bruce Leonard made admissions about what happened to his son and agreed to write a statement. The interrogation was videotaped. At no point did Bruce Leonard ask about his son, Irwin says.
Later, the sergeant said, Deborah Leonard said she had struck Lucas with a cord. When Grant removed a cord from the back of a computer and asked her to demonstrate how she hit him, the investigator said, Deborah Leonard struck a table violently.
Don Gerace, attorney for Bruce Leonard, has entered a not-guilty plea on behalf of his client, whom he said has no criminal history and has lived in the community more than two decades. Leonard has been a church member for eight years.
"In the state of New York he is charged with manslaughter in the first degree, which requires intent to cause serious bodily injury and I do not believe there was any intent," Gerace said this week.
Deborah Leonard's attorney, Devin Garramone, said his client had a stent put in due to a heart condition and requires constant medical attention.
"I cannot imagine my client had anything to do with these injuries, especially in the condition she is in," he said.
Bail for the other four church members was set Wednesday at $50,000 each.
Inserra identified them as as Joseph Irwin, David Morey, Linda Morey and Sarah Ferguson, a stepsister of the victims and mother of four of the children in the care of child welfare authorities.
Virkler granted prosecutors until October 23 to present evidence in the cases of Joseph Irwin and Sarah Ferguson because Christopher Leonard is still in the hospital.
Assistant District Attorney Dawn Lupi said there is "strong possibility" Irwin and Ferguson will face more serious charges. Inserra said investigators will consult prosecutors about the possibility of additional arrests or charges.
A former Word of Life church member, who asked not to be identified, said she was a babysitter for the teenage brothers and was shocked by the beatings.
The church, which began in 1984, has about five families, or about 35 members, including children, according to the former member. She described the congregation as a "makeshift family" that had been together for 25 years.
"We weren't originally isolated from the community," she said.
Over time, there was friction between the church and a neighboring community, she said.
"We put up the hedges," she said.
"Then the neighbors got angry because they couldn't see what's going on anymore."
But the ex-member denied reports the church is a cult.
"I realize this situation makes it look like this," she said, "but if you listen to the teachings, they are accurate to the Bible."
Responding to a reporter's question, Inserra said he had no information about whether the group is a cult.
Inserra said police had been called to the church on a handful of occasions after church member complaints about noise and disorderly conduct.
The Utica School District has employed Bruce Leonard as a teaching assistant since 2007, Proctor High School Principal Steven Falchi told CNN. He has been at Proctor High School in Utica since 2010, Falchi said.
Leonard works with a certified teacher and other teaching assistants in the special education department, Falchi said. He works with "severely and profoundly disabled students," Falchi said.
"We were very shocked to learn the news," said Falchi, adding he was not aware of previous complaints or disciplinary action against Leonard. "He was a hard worker and was exceptionally compassionate about his work with our students. It came as quite a shock."
Lucas Leonard and his younger brother were home-schooled, according to Ronald Wheelock, superintendent for Sauquoit Valley Central School District.
The school district's involvement with the teens was limited, with the parents sending the district curriculum proposals at the beginning of the year, Wheelock said.