This is an archived article and the information in the article may be outdated. Please look at the time stamp on the story to see when it was last updated.
[protected-iframe id="49d511594bb6d9f07f2d4818389adc09-41641936-58900479″ info="http://embed.newsinc.com/Single/iframe.html?WID=2&VID=25631057&freewheel=91045&sitesection=ktla&height=325&width=580″ width="580″ height="325″ scrolling="no"]
A driver walked away without any injuries after her vehicle was involved in a terrifying collision with a train in a suburb of Chicago, and the whole thing was caught on video.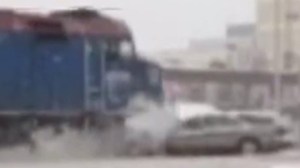 The collision occurred amid bad winter weather in Des Plaines, Ill. during rush hour on Monday evening, according to Tribune affiliate WGN-TV.
Video showed the car was stuck on the snow-covered, icy tracks.
The unidentified driver appeared to be trying to free her vehicle from the tracks as the Metra train approached, but she was unsuccessful in her attempts.
As the woman struggled to get the stalled vehicle off the tracks, the train can be seen slamming into the side of her car.
The woman was unharmed in the crash, according to WGN-TV.