This is an archived article and the information in the article may be outdated. Please look at the time stamp on the story to see when it was last updated.
A student from Fort Worth, Texas, is doing his part to end childhood hunger by donating hundreds of thousands of meals through a non-profit he started several years ago, KTLA sister-station KDAF reported this week.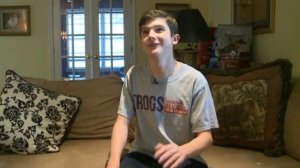 Will Lourcey started the organization after talking to his friends into taking up a bigger challenge six years ago.
"My non-profit is called FROGS or 'Friends Reaching Our Goals. We mobilize and inspire youth to fight hunger in our community," he told the Dallas-area station in an interview.
The teen first got into helping feed the hungry when he saw a man with a sign that read, "Need a meal."
"Because I was 7, I didn't understand what that meant," Will recalled. "So I asked my parents and they told me hunger was a huge problem in the community."
Now, besides making straight A's and playing tennis and basketball at his middle school, Will and his friends are also trying to stamp out childhood hunger. So far, FROGS has passed out more than 200,000 meals to hungry children.
His non-profit work is even being highlighted by Nickelodeon. "The HALO Effect" will air Will's story starting Friday, profiling the teen's efforts to fight hunger.
Will told the station he's not sure what he wants to do when he's older, but his mother is happy with the choices he's made so far.
"It's encouraging to know that little kids can make a big positive impact on the world," Julie Lourcey said.
Click here for more information on FROGS.