This is an archived article and the information in the article may be outdated. Please look at the time stamp on the story to see when it was last updated.
Texas Gov. Greg Abbott on Tuesday kicked off the first of three roundtable discussions on school safety in the wake of the Santa Fe High School shootings.
The first meeting, which focused on school and community safety, included almost two dozen school administrators, politicians, law enforcement officials and an architect with expertise on school design, among others.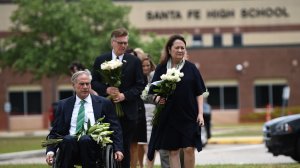 The meeting was closed to the media, but afterward Abbott read a long list of ideas discussed. They included:
Greater parental accountability
Creation of more threat assessment teams
Hiring more school counselors
Making it easier for students to report potential problems, possibly by rewarding them
Installing metal detectors
Mental health evaluations starting as early as elementary school
Abbott said he hoped some of the ideas could be implemented by the start of the next school year, such as the improved threat assessment system that would allow schools across Texas to better share information.
Accused shooter's dad believes bullying behind rampage, paper says
So far, the ideas are just that. It's not clear if any of them will become a reality. But Abbott insisted the roundtables were not political window dressing.
"We did more today than talk," the governor said. "We came up with some solid solutions."
The meetings were prompted by the slaying of 10 people last week at Santa Fe High School. Authorities said student Dimitrios Pagourtzis, 17, walked into the school with a shotgun and a pistol and killed eight students and two teachers. He is charged with capital murder of multiple people and aggravated assault on a public servant but has not entered a plea.
Abbott started the meeting in Austin by discussing the format. Wednesday's session will focus on gun regulations, mental health and causes of gun violence, he said. Thursday's roundtable will be about victims and families of victims.
Participants will change each day. The Wednesday discussion, for example, will include legislative leaders and the lieutenant governor, judges, the commissioner of the Texas Education Agency, mental health experts, the director of the Texas School Safety Center at Texas State University and members of groups advocating for and against increased gun regulation.
"The problem is that innocent people are being shot," Abbott said. "The reality is that we all want guns out of the hands of people who want to murder our children."
After opening remarks by Abbott, reporters were ushered out of the room, as Abbott's office announced they would be prior to the meeting. After the discussions, reporters came back in and Abbott talked about what happened.
The public is invited to share their opinions about improving school safety by going to the state government website.