This is an archived article and the information in the article may be outdated. Please look at the time stamp on the story to see when it was last updated.
Two high school football players have been accused of intentionally targeting a referee, knocking him to the ground and diving onto him.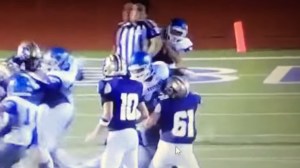 Multiple news outlets reported that a San Antonio school district was investigating the incident, which happened Friday during a game between John Jay and Marble Falls high schools.
A Northside Independent School District spokesperson told The Associated Press that video of the incident was "extremely disturbing."
It shows one John Jay High School player charge into the back of a referee, knocking him down. Right after that, another John Jay player dives onto the official on the ground.
"The first thing we want is that those two kids never play football again," said Wayne Elliott of the Austin Football Officials Association, referring to the players who were both ejected from the game.
The incident happened with about a minute left in the game. John Jay lost to rival Marble Falls 15-9.
Before the referee was hit, two John Jay players were reportedly ejected on separate plays. John Jay's coach apologized for the incident, saying he had never seen anything like it.