This is an archived article and the information in the article may be outdated. Please look at the time stamp on the story to see when it was last updated.
A water park in Texas is claiming its new planned attraction will be the tallest "water coaster" in the world.
The "Massiv" waterslide will be built at the Schlitterbahn Waterpark Galveston Island and is expected to open this summer.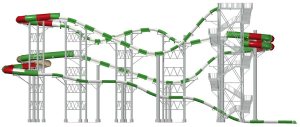 Last week, the park posted simulated point-of-view video of the ride, saying it will be the "tallest in the world." It will feature four uphill sections.
The ride will be 926 feet long — about 2 1/2 football fields' worth of waterslide.
"Our park is turning 10 this year and we decided we needed a really big present," a statement on the park's website said.
Riders will have to earn their fun, with 123 steps to get to the top.
UPI reported the coaster will open in June.
Schlitterbahn already runs what it claims to be the world's tallest water slide — 168-foot Verrückt, in Kansas City. It opened in summer 2014.
The company runs four water parks in Texas and one in Missouri.