This is an archived article and the information in the article may be outdated. Please look at the time stamp on the story to see when it was last updated.
More than 54 million Americans are expected to travel this Thanksgiving holiday weekend — the highest volume of travelers since 2005 — and that's expected to cause worse-than-usual traffic in large cities around the U.S., according to a new forecast from AAA.
The number of people who will be traveling at least 50 miles from home will rise about 4.8 percent from last Thanksgiving, which translates into an additional 2.5 million travelers from the previous year, AAA reported.
The vast majority of travelers will head to their holiday destination by car, and for the second straight year, automobile travel is predicted to increase by 5 percent.
About 48.5 million people are expected to hit the road between Wednesday, Nov. 21, and Sunday, Nov. 25, according to the forecast. That figure represents 2.3 million more than the number of people who traveled to their destination by automobile during the same Thanksgiving holiday period in 2017.
But an even bigger increase — about 5.4 percent — is forecast for air travel this year; some 4.3 million Americans are expected to take to the skies, the highest number since 2007.
Already on Tuesday evening, miles of cars stuck in bumper to bumper traffic could be seen across the Los Angeles area, from the 405 Freeway in Westwood to the 110 downtown.
Travel by train, bus, cruise ship and other modes will also be up from the last year, albeit by a more modest growth of 1.4 percent, according to AAA. That will translate to nearly 1.5 million people.
The auto club cited strong economic growth and consumer confidence as among the factors influencing its travel forecast.
"Consumers have a lot to be thankful for this holiday season: higher wages, more disposable income and rising levels of household wealth," AAA Senior Vice President Bill Sutherland said in a news release from the organization. "This is translating into more travelers kicking off the holiday season with a Thanksgiving getaway, building on a positive year for the travel industry."
Thanksgiving Holiday Traffic Will Be Busy … Again  
The bad news for motorists: a large number of holiday travelers means there will be no relief on the roads, especially in big cities such as Los Angeles, where traffic stretched for miles across various area freeways in the days leading up to last Thanksgiving.
Still, there are some periods of time that will be better to head out than others, according to experts.
AAA crunched the numbers and determined the absolute worst time to hit the road for the Thanksgiving holiday period in the Los Angeles area will be Wednesday between 2:30 p.m. and 4:30 p.m., when it will take drivers roughly twice as long as usual to get to their destinations.
The "worst hotspot" in Southern California is expected to be the southbound 5 Freeway between Dana Point and Oceanside, according to the forecast.
And if you're heading to Los Angeles International Airport to get to your Thanksgiving destination, the worst time to go there is Tuesday between 7 p.m. and 9 p.m., by way of the southbound 110 Freeway from downtown.
Still, despite its notoriety as having some of America's worst traffic, the biggest delays won't be felt in L.A. this Thanksgiving weekend. Instead, that dubious distinction will go to San Francisco, New York City and Boston, which will all see a nearly four-fold increase in drive times.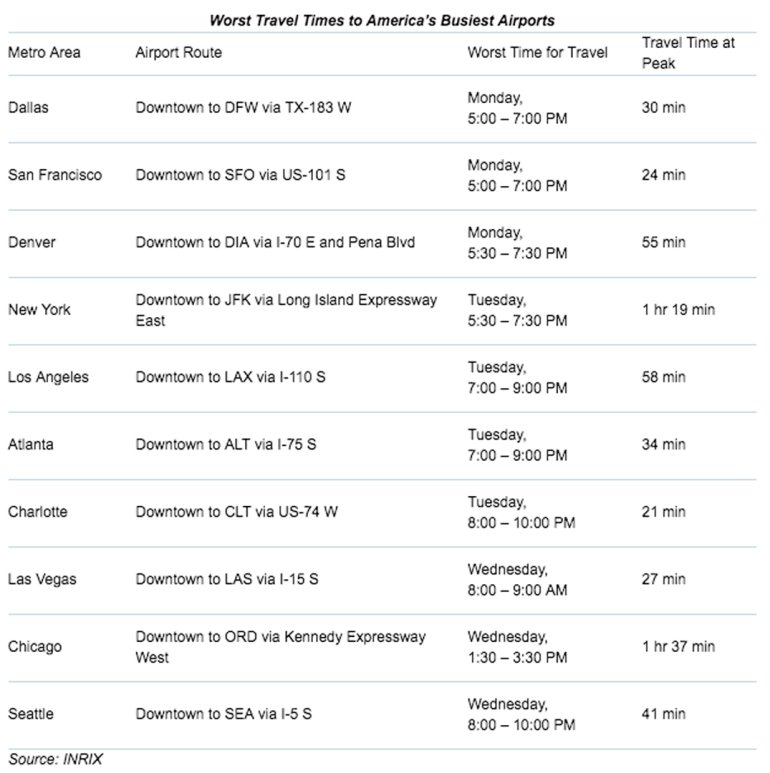 Overall, motorists can expect to see the largest amounts of traffic congestion throughout Thanksgiving week during the early evening rush-hour commute, according to experts.
"Thanksgiving is one of the busiest holidays for road trips, and this year will be no different," said Trevor Reed, transportation analyst at INRIX, a global mobility analytics company.
But there are ways motorists can cut down on their drive times, such as traveling Thanksgiving Day, Friday or Saturday, when traffic should be lighter. Traffic will become congested again on Sunday as travelers return home.
"Knowing when and where congestion will build can help drivers avoid the stress of sitting in traffic," Reed said in AAA's news release. "Our advice to drivers is to avoid commuting times in major cities altogether or plan alternative routes."