This is an archived article and the information in the article may be outdated. Please look at the time stamp on the story to see when it was last updated.
A third powerful nor'easter in less than two weeks is expected to arrive late Monday in the Northeast as thousands of people dig out from the other fierce storms this month and continue to wait for their power to be restored.
The latest barrage is forecast to roar into New England and New York through Tuesday, bringing pounding snow, howling winds and coastal flooding, forecasters say. This one could reach "bomb cyclone" status, a severe drop in atmospheric pressure that would bring heavy snow and winds.
Nearly 50 million people are under a winter weather advisory or warning from the Tennessee Valley into New England including New York City, Boston, and Portland, Maine.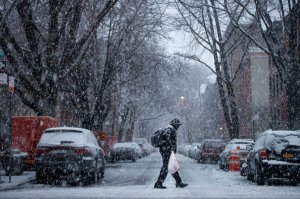 The heaviest snow will fall from Connecticut to Maine. Winds gusts close to hurricane force are forecast, mainly for New England.
The National Weather Service's Boston office is forecasting 8 inches to a foot of snow for parts of Connecticut through western Massachusetts and up to 18 inches for eastern Massachusetts and Rhode Island.
A slight shift in track of the storm of 50 miles east or west could make a big impact to the amount of snow received.
Boston is one of the cities likely to bear the brunt of the storm, where snowfall totals of 12 to 20 inches are predicted. In some areas, snow could reach 2 feet.
"Although there is still uncertainty in the forecast, it is likely that Massachusetts will be impacted by a significant storm tonight into Tuesday evening with the potential for blizzard-like conditions and snowfall rates of 1-3″ per hour," the Massachusetts Emergency Management Agency said.
"This storm could bring significant snowfall across much of the Commonwealth, high winds along the coast, southeast and eastern portions of the state, and minor coastal flooding on east ocean-exposed shorelines."
New York City, under a winter weather advisory, will be spared the heaviest snow, but accumulations of 2 to 4 inches are expected. Little or no snow accumulation is currently forecast for Philadelphia and Washington.
Related: Track the storm
On March 2, a nor'easter that morphed into a "bomb cyclone" slammed much of the Northeast with heavy snow and rain, hurricane-force wind gusts, and significant coastal flooding. The storm left six people dead from falling trees, and about 900,000 people lost electrical power.
As residents were still digging out from that snow, a second storm hit the Northeast late last week. The storm dropped heavy, wet snow in areas west of Interstate 95, leaving feet of snow in some areas. One 88-year-old woman died Wednesday when a tree fell and struck her in Suffern, in southern New York, police said.
This winter's snowfall totals so far sit around the annual average at this point for the major Northeast hubs of Boston, New York and Philadelphia, according to the National Weather Service.