This is an archived article and the information in the article may be outdated. Please look at the time stamp on the story to see when it was last updated.
A 3-year-old boy in Tennessee was being called a hero after rescuing an ailing man who was trapped inside a sweltering car.
Bob King had become locked inside his car when the door wouldn't open, the 68-year-old told local TV station WVLT.
According to the station, King has a history of strokes and has a pacemaker.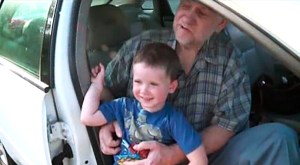 He was beginning to grow concerned, he told WVLT, when he spotted Keith Williams walking by.
"I hollered at him, and he just looked at me kind of funny, and I said, 'Yeah, I'm locked in here,'" King told WVLT.
The boy ran to get his pastor and led him out to King's car, and within a few minutes, King was safely out of the vehicle, the station reported.
Pastor Jack Greene told the station that Keith knew something was wrong.
"He was hot," the boy told the station. "He was locked in the car."