This is an archived article and the information in the article may be outdated. Please look at the time stamp on the story to see when it was last updated.
The parents of a 2-year-old boy whose body was found in a plastic garbage bag near the Huey P. Long Bridge, which crosses the Mississippi River in Louisiana, have been arrested, The Times-Picayune reports.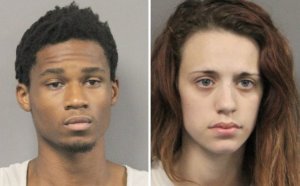 Gabrielle Whittington and Onterio Thompson, both 21, of St. Tammany Parish, were booked into the Jefferson Parish Jail Thursday on charges of unlawful disposal of human remains and obstruction of justice.
The body was found Wednesday evening along the 4900 block of River Road on the east bank of the Mississippi River levee.
Capt. Daniel  Seuzeneau, a St. Tammany Parish Sheriff's Office spokesman, said the sheriff's office received a call Tuesday night from the boy's grandmother, who was concerned about the toddler and told deputies she hadn't seen him in several weeks.
Seuzeneau said deputies started the investigation late Tuesday night, leading them to Jefferson Parish, where "we believe this all happened."
The coroner's office said it could take weeks to positively identify the child but gave a "circumstantial identification," Jefferson Parish Deputy Coroner Granville Morse told the newspaper. "Circumstantially, things point toward it being him."
Morse estimated the body had been buried in the ground for at least two weeks and was so badly decomposed that there was no obvious cause of death.