This is an archived article and the information in the article may be outdated. Please look at the time stamp on the story to see when it was last updated.
A mug confiscated by Nazis at Auschwitz has been hiding a secret for more than 70 years.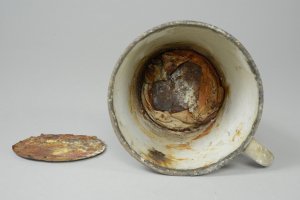 Workers at the Auschwitz Museum this week found a gold ring and necklace that had been carefully wrapped in canvas before being concealed in a false base.
They are some of the last possessions held by someone deported to Auschwitz-Birkenau, one of the largest concentration camps established by the Germans during WWII, the museum said.
"The hiding of valuable items… proves on the one hand to the awareness of the victims as to the robbery nature of the deportation, but on the other hand it shows that the Jewish families constantly had a ray of hope that these items will be required for their existence," said Piotr Cywinski, the Director of the Auschwitz-Birkenau State Museum.
Nazis often told those that they deported to concentration camps that they were simply going to be resettled, promising a new life in a new place. The deportees were allowed to bring a little luggage, Cywinski said.
The soldiers "were confident that in the luggage — including clothes and items needed for life — they would find the last valuables of the deported families."
The treasures were found while workers were working to secure the museum's collection of 12,000 enameled kitchenware pieces. Conservators at the museum document all of their findings, but there is often no way to identify the owners of the items.
According to a press release, the necklace and ring will be stored "in the form reflecting the manner in which it had been hidden by the owner, as a testimony to the fate of the Jews deported to the German Nazi concentration and extermination camp."