This is an archived article and the information in the article may be outdated. Please look at the time stamp on the story to see when it was last updated.
The Trump administration is now allowing the export of arms to Ukraine, marking a potentially significant turn against Russia.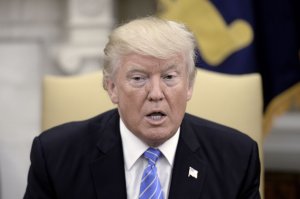 U.S. State Department spokeswoman Heather Nauert said the department notified Congress on Dec. 13 that it had approved an export license, which allows Ukraine to buy certain light weapons and small arms from U.S. manufacturers.
"The U.S. government is not selling the Ukrainian government these weapons," Nauert said.
The U.S. has not provided lethal defensive equipment to Ukraine, she said, nor has it ruled out doing so.
Nauert's confirmation of the decision included a statement that President Donald Trump's predecessors had approved exports to Ukraine.
"Under the previous two administrations, the U.S. government has approved export licenses to Ukraine, so this is nothing new," she said.
A bill passed in late 2014 after the conflict began authorized the Obama administration to send weapons to Ukraine, and State Department reports show that that administration authorized categories of commercial sales — including light weapons — for delivery to Ukraine.
The Washington Post was first to report on the Trump administration's decision to allow the export of weapons to Ukraine, which has been under consideration and breaks with both the stated practice of the Obama administration and the spirit of President Donald Trump's call for the U.S. to foster warmer relations with Russia.
Earlier this week, Trump unveiled his National Security Strategy, which challenges Russia on several fronts and argues that Moscow's ambition and capabilities are creating "an unstable frontier in Eurasia, where the risk of conflict due to Russian miscalculation is growing."
The news of the decision to allow arms exports to Ukraine broke as the Treasury Department announced sanctions under the Magnitsky Act against five individuals for alleged human rights abuses in Russia.
Russian Foreign Ministry spokeswoman Maria Zakharova responded to reports that the U.S. and Canada have decided to allow weapons exports to Ukraine by accusing Washington and Ottawa of making false claims about the conflict in Ukraine as a "pretext to begin large-scale lethal weapons deliveries to Ukraine."
Zakharova went on to say arming Ukraine would further inflame tensions and push Ukraine "towards reckless new military decisions."
Nauert had addressed the conflict in Ukraine on Tuesday, saying, "Russia and its proxies are the source of violence in eastern Ukraine, and the Russian government continues to perpetuate an active conflict and humanitarian crisis through its leadership and supply of military forces on the ground."
Nauert said the U.S. continued to call on Russia to withdraw its forces and weaponry from Ukraine.
The Ukrainian conflict has been at the heart of tensions between the U.S. and Russia, and Trump's approach to Ukraine, as well as Russia more generally, has drawn great scrutiny amid probes into allegations of coordination between Trump associates and Russia to influence the 2016 U.S. election.
Tillerson said earlier this month that the U.S. would maintain its sanctions on Russia until it withdraws from Ukraine.