This is an archived article and the information in the article may be outdated. Please look at the time stamp on the story to see when it was last updated.
Health insurers across the country are making plans to dramatically raise Obamacare premiums or exit marketplaces amid growing exasperation with the Trump administration's erratic management, inconsistent guidance and seeming lack of understanding of basic healthcare issues.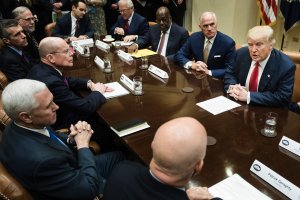 At the same time, state insurance regulators — both Democrat and Republican — have increasingly concluded they cannot count on the Trump administration to help them ensure that consumers will have access to a health plan next year.
The growing frustration with the Trump administration's management — reflected in letters to state regulators and in interviews with more than two dozen senior industry and government officials nationwide — undercuts a key White House claim that Obamacare insurance marketplaces are collapsing on their own.
Instead, according to many officials, it is the Trump administration that is driving much of the current instability by refusing to commit to steps to keep markets running, such as funding aid for low-income consumers or enforcing penalties for people who go without insurance.
Read the full story on LATimes.com.