This is an archived article and the information in the article may be outdated. Please look at the time stamp on the story to see when it was last updated.
President Donald Trump has approved stepping up counterterrorism strikes in Somalia, according to two US defense officials.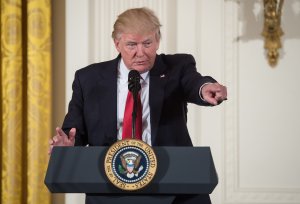 The White House is granting more authority to the military's head of Africa Command to wage a campaign against the terror group al Shabaab.
The military will now be able to conduct "precision airstrikes" in support of the African Union Mission in Somalia and the Somalia National Army in their fight against the terror group.
US defense officials were adamant that the changes would not result in a relaxing of procedures to prevent civilian casualties.
One official said the legal basis for the new authority will be the 2001 authorization for use of military force due to al Shabaab's status as an affiliate of al Qaeda.
The official added that the US advisers already working with indigenous forces in Somalia in a train-and-advise capacity will also be able to provide coordination for the strikes.
The new authorization designates some regions of Somalia an "area of active hostilities," freeing strikes there from restrictions governing counterterrorism strikes outside such areas.
Last week, Africa Command Commander Gen. Thomas Waldhauser told reporters if the approval was granted, it would allow the US to have a "little more flexibility, a little bit more timeliness, in terms of decision-making process."
"It allows (us) to prosecute targets in a more rapid fashion. So that obviously is something that we advocate for," said Walhauser.
The new authority puts Waldhauser in a position for calling for missions comparable to that which the commander of Central Command has to strike al Qaeda in the Arabian Peninsula.
But it doesn't mean the prevention of civilian deaths won't remain a priority.
"Obviously, the cardinal rule in these types of engagements is to not make more enemies than you already have. And I think we go to great pains to do that," Waldhauser said Friday.
The New York Times first reported the approval by the White House.