This is an archived article and the information in the article may be outdated. Please look at the time stamp on the story to see when it was last updated.
President Donald Trump said Friday he will allow his Defense Secretary James Mattis to "override" him on torture, an issue on which the two men disagree.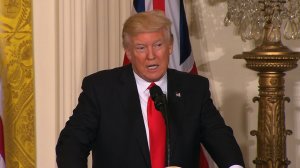 "I don't necessarily agree, but I would tell you that he would override because I am giving him that power," Trump said Friday during a joint news conference with British Prime Minister Theresa May. "I am going to rely on him."
Trump has in the past suggested that he would defer to Mattis, who is firmly opposed to reinstating torture, on the issue, but he appeared to go further Friday in closing the door on the issue.
Trump said in an interview with Fox News that aired Thursday night "Mattis said that he doesn't intend to use it. I'm with him all the way."
Still, in a significant moment, Trump proclaimed during the news conference that he believes torture "does work."
Both the United States and the United Kingdom have been signatories of the Geneva Conventions banning torture for more than a half-century.
"I happen to feel that it does work, I've been open about that for a long period of time, but I am going with our leaders and we are going to win with or without," Trump said.
Still, he added for emphasis, "But I do disagree."
Mattis, though, would not have oversight over the Central Intelligence Agency, the top US spy agency that in the wake of 9/11 used waterboarding, a method of torture, in interrogating terror suspects.
Mattis has said that beer and cigarettes work better than torture for getting information during interrogations.
Trump during his campaign for president called for reinstating waterboarding and "a hell of a lot worse" forms of torture.