This is an archived article and the information in the article may be outdated. Please look at the time stamp on the story to see when it was last updated.
President-elect Donald Trump on Friday shared a letter he received from Russian President Vladimir Putin, who offered Trump his "warmest Christmas and New Year greetings" and urged the next president "to take real steps to restore the framework of bilateral cooperation."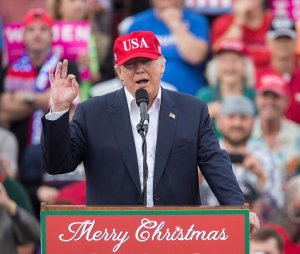 "A very nice letter from Vladimir Putin; his thoughts are so correct," Trump said in a statement. "I hope both sides are able to live up to these thoughts, and we do not have to travel an alternate path."
In the translation of the December 15th letter provided by the Trump team, Putin wrote that "serous global and regional challenges, which our countries have had to face in recent years, show that relations between Russia and the US remain an important factor in ensuring stability and security of the modern world.
Putin continued, "I hope that after you assume the position of the President of the United States of America, we will be able — by acting in a constructive and pragmatic manner — to take real steps to restore the framework of bilateral cooperation in different areas as well as bring our level of collaboration on the international scene to a qualitatively new level."
The release of the letter comes days after Russia loudly voiced complaints about its relationship with the US under the Obama administration, and after bellicose remarks from Trump about the need to "strengthen and expand" the US nuclear arsenal to counter nuclear adversaries.
At his annual news conference on Thursday, Putin had said that the US and Russia "need to discuss ways to normalize our relations. During his election campaign, Trump said it would be proper to normalize and it can't be worse, and I agree with him."
And a Kremlin spokesperson criticized the poor relationship with the outgoing Obama administration in an interview Wednesday. "Nearly all levels of our dialogue (with the US) has been frozen," Kremlin spokesman Dmitry Peskov told Russian state-run news agency RIA Novosti. US State Dept. spokesperson John Kirby pushed back on Peskov's assessment, saying Thursday that "diplomatic engagement with Russia continues across a wide range of issues."
Still, the sharp rhetoric from each side stems from serious disagreements over crises in Syria and Ukraine, and grave allegations by the US against Russia of covertly interfering in the 2016 election — to the advantage of Trump, according to the intelligence community.
Adding to the tension is Trump's cavalier dismissal of nuclear proliferation concerns — he reportedly told MSNBC on Friday, "let it be an arms race," when he was asked about his pledge to "strengthen and expand" the US nuclear arsenal, and new White House press secretary Sean Spicer added to Trump's comments by saying on CNN, "if another country or countries want to threaten our safety, our sovereignty, [Trump's] going to do what it takes."
Real Trump statement: "A very nice letter from Vladimir Putin; his thoughts are so correct." pic.twitter.com/pIDODB8doK

— Daniel Dale (@ddale8) December 23, 2016
This is the Putin letter, calling for more Russia-America "collaboration on the international scene": pic.twitter.com/BTv4RyaaHR

— Daniel Dale (@ddale8) December 23, 2016