This is an archived article and the information in the article may be outdated. Please look at the time stamp on the story to see when it was last updated.
After 14 months of avoiding the nation's most populous state, President Donald Trump arrived for his first presidential tour of California on Tuesday, a trip he kicked off at the U.S.-Mexico border to view prototypes for his long-promised wall.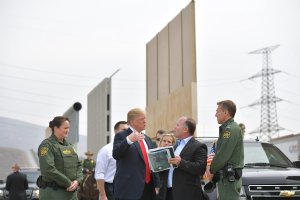 The president arrived at the Otay Mesa testing site around 12:20 p.m. and spoke alongside a Border Patrol official who has been stationed in the area 25 years — since before the existing wall was constructed — reiterating his belief that the $18-billion project was essential in securing America's border.
"For the people that say 'no wall,' if you had no walls over here, you wouldn't have a country," he said. "The state of California is begging us to build walls in certain areas. They don't tell you that."
The president described California's border with Mexico before the wall as an "open wound." According to the White House, illegal crossings in the Border Patrol's Yuma sector dropped 82 percent after a 23-mile wall was built in the area in 2007.
Though Trump didn't comment at length on his inspection of the prototypes, he indicated he prefers the wall to be "see-through."
"You have to know what's on the other side of the wall," he told reporters. "You could be two feet away from a criminal cartel and you don't even know they're there."
The president also took the opportunity to lambaste Gov. Jerry Brown, describing him as a "nice guy" who "has not done the job."
"The place is totally out of control," he said. "You have sanctuary cities where you have criminals living in the sanctuary cities."
Brown later responded on Twitter, telling the president "bridges are still better than walls" and touting California's economy.
👋 Thanks for the shout-out, @realDonaldTrump. But bridges are still better than walls. And California remains the 6th largest economy in the world and the most prosperous state in America. #Facts

— Jerry Brown (@JerryBrownGov) March 13, 2018
Following his inspection, Trump delivered a speech to troops stationed at Marine Corps Air Station Miramar, praising the Armed Forces while taking swipes at Hillary Clinton, the Obama administration and the news media. He also announced his hopes for his administration's ramp-up of military funding to have a galactic impact.
"My new national strategy for space recognizes that space is a war-fighting domain, just like the land, air and sea. We may even have a Space Force," he said, admitting that when he first conceived of the idea he wasn't seriously considering it but has since come to believe it should become a new military branch.
The president's afternoon in San Diego County will be followed by an evening in Los Angeles, where he is scheduled attend a private fundraising event in Beverly Crest. Air Force One landed at LAX just before 3:35 p.m. to connect to the Santa Monica airport, from where he would travel by motorcade.
Trump is expected to spend the night in Los Angeles. Though the White House hasn't given any indiction where he will stay, last week the Wilshire Grand Center in downtown L.A. sent tenants a message informing them a "VIP/high security visitor" would be staying in the building's InterContinental Los Angeles Downtown Hotel and "have a significant impact in and around the building," the Los Angeles Times reported.
Los Angeles police on Tuesday announced the streets surrounding the building would be closed due to Trump's visit; portions of Figueroa and Seventh streets and Wilshire Boulevard are expected to be shut down until 1 p.m. Wednesday. Officials also set up metal barricades surrounding the Wilshire Grand Center.
#LAPD: The following streets will be closed until 1:00p.m on Wednesday, March 14, 2018 for the Presidential visit:

Figueroa St. between 8th St. and 6th St,
Wilshire Blvd. between Flower St. and Beaudry Ave, and
7th St. between Flower St and Bixel St. pic.twitter.com/iXfvHYB7cM

— LAPD HQ (@LAPDHQ) March 13, 2018
LAPD urged all Angelenos to prepare for traffic jams, potential street closures and delays, and downtown was already "extremely congested" ahead of Trump's arrival Tuesday afternoon, the agency said. The visit would also come with an increased police presence, LAPD said, though it was not releasing details on what that would entail.
"While the Department is well rehearsed at dealing with presidential visits, every administration brings with it unique challenges and new protocols, and unfortunately out of an abundance of caution many details about this visit are being withheld for security reasons," LAPD said in a tweet.
The #LAPD's statement regarding President Trump's first visit to Southern California since taking office pic.twitter.com/Lf1R1EfuYV

— LAPD HQ (@LAPDHQ) March 13, 2018
Trump is also expected to be met with crowds of opponents — and some supporters — throughout his stay. Demonstrations are scheduled at Beverly Gardens Park and the Santa Monica airport.
In San Ysidro elected officials and church leaders led a rally against the president's immigration agenda. Meanwhile, in Otay Mesa, the group San Diegans for Secure Borders organized in support of Trump and were joined by counter-protesters. A dispute between the two groups during which one man grabbed a Mexican flag and tore it to pieces was caught on video.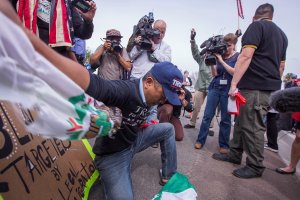 Trump's visit is only expected to last one night. Unlike other presidents, he won't hold events to highlight the entertainment or technology industries centered in California -- two of the country's most profitable and visible exports that help drive the state's economy, which is the world's sixth largest.
The last sitting president to go this long without traveling to California was Franklin Roosevelt -- and he took a train. Trump lost the state by a wide margin in the 2016 presidential election and remains deeply unpopular here.
The trip comes just a week after his administration announced it is suing the Golden State over its so-called "sanctuary" policies that seek to protect immigrants' due process. Trump seemed to put to rest any notion his visit would be conciliatory with a series of tweets apparently sent mid-flight from Washington to San Diego.
"California's sanctuary policies are illegal and unconstitutional and put the safety and security of our entire nation at risk," the president wrote, echoing the sentiments expounded by Attorney General Jeff Sessions during a splashy press conference held in Sacramento last Wednesday.
Trump also used his Twitter account to highlight a Fox News article about a study suggesting the border wall could pay for itself. The organization that authored the research, the Center for Immigration Studies, is designated as an anti-immigrant hate group by the Southern Poverty Law Center.
California's sanctuary policies are illegal and unconstitutional and put the safety and security of our entire nation at risk. Thousands of dangerous & violent criminal aliens are released as a result of sanctuary policies, set free to prey on innocent Americans. THIS MUST STOP!

— Donald J. Trump (@realDonaldTrump) March 13, 2018
"According to the Center for Immigration Studies, the $18 billion wall will pay for itself by curbing the importation of crime, drugs and illegal immigrants who tend to go on the federal dole..." https://t.co/NdLC6jZwWE

— Donald J. Trump (@realDonaldTrump) March 13, 2018
His stop at the U.S.-Mexico border gave Trump an opportunity to see in person what options his administration has tested for future construction -- if Congress approves any money to proceed. But experts said Trump couldn't appear to choose any prototype as his favorite, for fear of seeming to influence the rigid procurement process.
Customs and Border Protection picked eight proposals for construction along the San Diego border, which were finished in October and have been tested in a real-world border environment for evaluation since.
The eight prototypes fall into two categories -- four are designed to be 30-foot concrete walls, and four are made of other materials.
After construction was completed, the prototypes were tested on several fronts, including on withstanding breaches, climbing, digging, their ability to slow down and stop border traffic, and whether they are safe for Border Patrol agents. For example, officials in the past have said border barriers ideally allow agents to see what's happening on the other side, so adversaries can't hide in the shadow of a wall.
All the various characteristics of the potential border walls and fences, including combinations of them, could be used as new barriers are built, as each choice will be selected based on the needs of the environment where it's being put. The process of putting together the "toolkit" is ongoing, according to Customs and Border Protection spokesman Carlos Diaz.