This is an archived article and the information in the article may be outdated. Please look at the time stamp on the story to see when it was last updated.
Turkey's president resorted to using the FaceTime feature on iPhone as he attempted to rally people against a military coup going on in the country early Saturday.
Turkish President Recep Tayyip Erdogan used the video chat feature in an interview with CNN Turk, the network's partner in Turkey.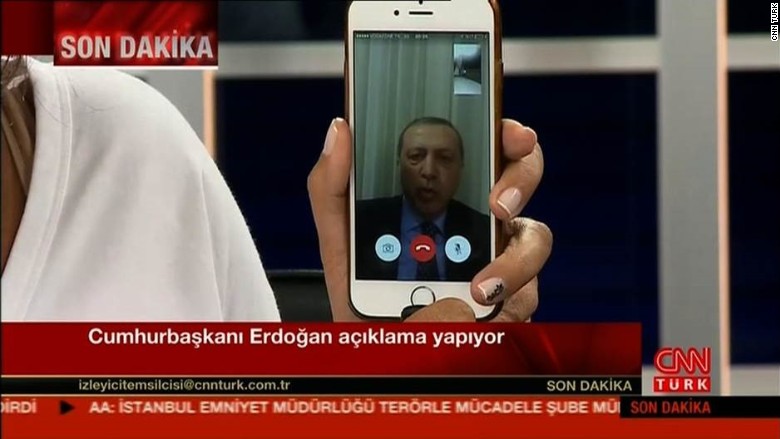 "Go to the streets and give them their answer," Erdogan urged as the reporter held up her phone to the network's camera. "I am coming to a square in Ankara."
"This was done from outside the chain of command," he said. He said the lower officers had rebelled against senior officers.
"Those who are responsible, we will give them the necessary punishment," Erdogan said.
It was not clear where he was speaking from.
On Friday, there was a surprise military uprising in Turkey. The military has taken over the government and imposed martial law, according to an announcement made on the Turkish state broadcaster TRT.
The statements claim the military has "fully seized control of Turkey" to maintain democratic order, that rule of law must remain a priority and international relations must remain. The statements have not been distributed through regular web channels.
A CNN producer said there were 200 to 300 residents in Taksim Square in Istanbul. Some of them were waving Turkish flags. About 100 police officers were shooting off tear gas, trying to disperse the crowd.
At least one army tank and one other military vehicle were at the square.
U.S. Secretary of State John Kerry told reporters in Moscow that he has been given reports about what is going on. "I don't have any details. I hope there will be peace, stability and continuity in Turkey," he said.
A report from the U.S. Embassy in Ankara said military-appearing jets had been flying low over the city and Istanbul for about an hour.
Erdogan is the co-founder of Turkey's ruling Justice and Development Party (AKP). He was elected Prime Minister in 2003. Under his rule, Turkey became a powerhouse in the Middle East. His reign came to an end in 2014, and his own party's rules prevented him from seeking a fourth term.
He ran for president and won. Before this, the president of Turkey was a largely ceremonial role, but Erdogan tried to change that by altering the constitution to give him more power.
The 2015 election resulted in a hung Parliament, leading to sweeping anti-government protests and terror attacks. Turkey held a snap election, and with that, Erdogan's AK Party regained control.
Under Erdogan, who is extremely conservative, religion had started to play a more important role in Turkey, which is a largely secular country. He was active in Islamist circles in the 1970s and 1980s.
Erdogan is open about his dislike of social media. Sites such as YouTube and Facebook are frequently blacked out in the country.