This is an archived article and the information in the article may be outdated. Please look at the time stamp on the story to see when it was last updated.
Chris Harper-Mercer, the shooter behind the deadly rampage at Umpqua Community College in Roseburg, Oregon, apparently committed suicide after exchanging gunfire with officers, Douglas County Sheriff John Hanlin said Saturday.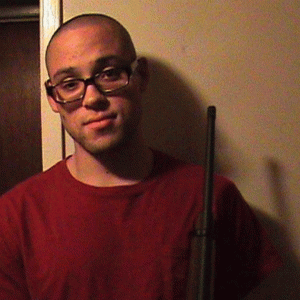 A timeline released by investigators shows that the first 911 call about the Thursday's shooting came at 10:38 a.m.
Six minutes later, Hanlin said, two Roseburg police officers and a state trooper arrived on the scene. At 10:46 a.m., the officers exchanged gunfire with Harper-Mercer. Two minutes later, there was a report of "suspect down," according to the timeline.
Hanlin said the state medical examiner determined the gunman's death was a suicide. State police are investigating the shootout.
Father: Thoughts are with victims' families
The father of the gunman told CNN that he was devastated by the news that his son was the killer and that his heart went out to all affected families.
"I know words cannot bring families back. I know there's nothing that I can say that can change what happened," Ian Mercer said outside his home in California. "But please believe me, my thoughts are with all of those families and I hope they can get through this."
Mercer said his son lived in Oregon with his mother and he hadn't seen his son since they moved two years ago. Father and son had a good relationship, he said. They talked and went out to dinner and did things sons and dads do, the father said.
Mercer said he was unaware his son had firearms.
"I had no idea he had any guns. I have no idea that he had any guns whatsoever," Mercer said. "And I'm a great believer you don't buy guns, don't buy guns, you don't buy guns."
Mercer wouldn't comment on whether his son had emotional or mental issues. That is for investigators to determine, he said.
The victims
The nine victims who died in the massacre ranged in age from 18 to 67, Hanlin said.
Those killed are Lucero Alcaraz, 19; Treven Taylor Anspach, 20; Rebecka Ann Carnes, 18; Quinn Glen Cooper, 18; Kim Saltmarsh Dietz, 59; Lucas Eibel, 18; Jason Dale Johnson, 34; Lawrence Levine, 67; and Sarena Dawn Moore, 44.
Ages of Umpqua's students vary widely. Of its 13,600 students, the average age was 38 during the 2013-2014 school year.
Bonnie Schaan said at a news conference Saturday that her daughter, Cheyeanne Fitzgerald, told her the shooter handed an envelope to one person in the room and told that student he was the lucky one and to stand in the corner.
Fitzgerald was asked her religion and when she didn't answer, she was shot in the back, her mother said. The bullet clipped one lung and lodged in a kidney, which doctors removed.
Her daughter survived by playing dead, Schaan said. Fitzgerald remains in critical condition.
14 firearms found
Investigators found 14 firearms connected to the shooter, authorities said.
Five pistols and one rifle were found at the college. Police searched his apartment and initially found two pistols, four rifles and a shotgun, Celinez Nunez of the Bureau of Alcohol, Tobacco, Firearms and Explosives said. Hanlin said investigators later discovered another handgun at the shooter's home.
All the weapons were legally obtained by the shooter or family members over the past three years through a federally licensed firearms dealer, authorities said.
A flak jacket was found next to a rifle at the school with five magazines of ammunition, Nunez said. Additional ammunition was found at the residence.
The blog posts
Investigators are pursuing blog posts by someone with an email address associated with Harper-Mercer. The writings include feelings of anger about being isolated and unable to form relationships, law enforcement officials said.
Two officials said that after the shooting, the gunman's family told investigators that he suffered from mental health issues and had sought treatment.
The writings also reflect an apparent fascination with the Irish Republican Army, one law enforcement official said. A MySpace page believed to belong to the gunman included photos of him and also photos of IRA posters.
No link to organized groups
The posts were left under the user name "lithium_love." Two of them were specifically about recent shootings — one about Vester Flanagan, who killed two local news reporters in Virginia, and one about an officer slain near Houston in August.
Speaking of Flanagan on August 31, the blog post reads: "I have noticed that so many people like him are all alone and unknown, yet when they spill a little blood, the whole world knows who they are. … Seems the more people you kill, the more you're in the limelight."
Investigators have found no indication the shooter was linked with any organized groups.
Shooter was enrolled in class
The shooter served in the Army from November to December of 2008 at Fort Jackson, South Carolina, but was "discharged for failing to meet the minimum administrative standards," the Pentagon said.
He attended El Camino College in Torrance, California, from 2010 to 2012, according to a college spokesman.
Harper-Mercer was a student at Umpqua and was enrolled in English and theater classes, said Rita Cavin, interim president of the school.
He initially opened fire in an English class, she said.