This is an archived article and the information in the article may be outdated. Please look at the time stamp on the story to see when it was last updated.

As gymnast after gymnast took a podium to lambaste serial molester and former gymnastics physician Larry Nassar, the national governing body for the sport announced Monday its top executives were stepping down.
USA Gymnastics, which counted Nassar as part of its medical staff or as national team doctor through four Olympic cycles, announced the resignations from its board of directors in a tweet. Chairman Paul Parilla, Vice Chairman Jay Binder and Treasurer Bitsy Kelley have resigned, effective Sunday, the tweet said.
USA Gym Board of Directors executive leadership – Chairman Paul Parilla, Vice Chairman Jay Binder & Treasurer Bitsy Kelley – tendered their resignations, effective Jan. 21, 2018. The Board of Directors will identify an interim chairperson until a permanent selection is named.

— USA Gymnastics (@USAGym) January 22, 2018

The board of directors will name an interim chairperson as it searches for a permanent replacement.
"We support their decisions to resign at this time. We believe this step will allow us to more effectively move forward in implementing change within our organization," USA Gymnastics President Kerry Perry said, according to another tweet.
"As the board identifies its next chair and fills the vacant board positions, we remain focused on working every day to ensure that our culture, policies and actions reflect our commitment to those we serve," she said.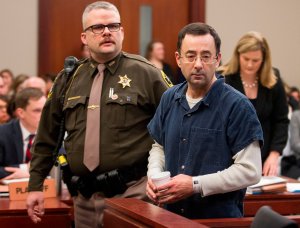 Nassar meanwhile has been sitting in an Ingham County, Michigan, courtroom listening to statements from gymnasts and other young women who he is accused of abusing. More than 140 girls and young women have addressed the disgraced doctor during his sentencing hearing.
Nassar, who also served as a physician for Michigan State University athletics, has pleaded guilty to seven counts of criminal sexual conduct and admitted to sexually assaulting and abusing young girls under the guise of providing medical treatment.