This is an archived article and the information in the article may be outdated. Please look at the time stamp on the story to see when it was last updated.
Osa Masina, a University of Southern California football player who was suspended from the team's first game this season, is being investigated in connection with two alleged sexual assault incidents in Utah and Los Angeles, police said.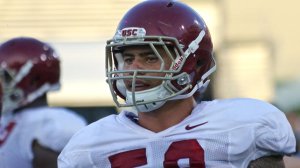 Sgt. Dan Bartlett of the Cottonwood Heights Police Department confirmed to KTLA that Masina is being investigated for two separate incidents.
Masina, a sophomore linebacker from Salt Lake City, was suspended from the opener against the University of Alabama for violating team rules, according to Head Coach Clay Helton.
Helton did not elaborate further on the reason, but according to a police report obtained by KTLA, the victim obtained a rape kit and accused Masina of forcible rape and sodomy.
The university is aware of the investigation involving Masina, according to a USC spokesman.
"USC is cooperating fully with authorities in Utah, the lead agency in the investigation. Due to privacy laws and to protect the rights of our students, we are not able to discuss this matter further," Eddie North-Hager, the school's Director of Media Relations, wrote in an emailed statement. 
Masina would not travel with the team for the opening game this Saturday, Helton said.  The neutral site game is being played at AT&T Stadium in Arlington, Texas.
As a first-year linebacker on the team, Masina played in 12 games, missing the season finale against UCLA and the Pac-12 Championship game against Stanford after being sidelined with an injury, according to his biography on the USC Athletics website.
KTLA's Jennifer Thang, Olsen Ebright and Cindy Von Quednow contributed to this story.