This is an archived article and the information in the article may be outdated. Please look at the time stamp on the story to see when it was last updated.
A bar in Utah has turned its bathroom into a faux jail cell as a sobering reminder to its patrons that driving under the influence has serious consequences.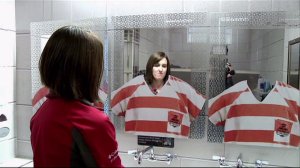 SkySLC in Salt Lake City partnered with highway patrol and state safety office officials to make the unusual change, local TV station KSTU reports.
The bar's manager, Jacob Torres, told the station he hopes that before his customers get behind the wheel while intoxicated they will go into the bathroom and realize it's not worth it.
"It definitely sends a message that people know - think twice about drinking and driving because it's kind of a shock, like, 'oh my gosh, this could be my little cell for how long? Not worth it at all,'" Torres said.
Once inside the bathroom, a jail-like door complete with bars closes behind those inside, a bunk bed sits behind hand dryers, and striped uniforms are pictured on the mirrors above the sinks.
A message is also painted on the walls: "Ever wonder what a DUI looks like? Drive sober or get pulled over."
The bathroom was decked out before Halloween, KSTU reported Thursday, as state officials said roads are more dangerous when Halloween falls on a weekend as opposed to a weekday.
"Statistics show 30 percent higher fatalities nationwide," Stacey Johnson, coordinator of the state Zero Fatalities program, told KSTU.