This is an archived article and the information in the article may be outdated. Please look at the time stamp on the story to see when it was last updated.
[protected-iframe id="fc81254fb194bbfe925dd8fd52e5c755-41641936-41845117″ info="https://www.ksl.com/api/jwplayer/player.php?file=https://media.ksl.com/1484197525-492677833.mp4&image=//media.ksl.com/1484197525-492677833.jpg&width=770&height=433″ width="770″ height="433″ frameborder="0″ allowfullscreen=""]
A Utah man accused of attempted armed robbery was found hiding from police in a corral full of cow manure on Tuesday, police said.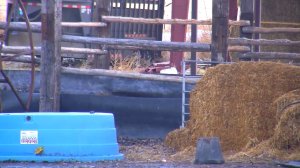 The man and a woman allegedly tried to rob a Subway from the drive-through window, Payson Police Department Lt. Bill Wright told television station KSL-TV.
Employees refused to comply and the pair drove off and went southbound on Interstate-15.
A witness was able to give police the license plate number and officers were able to locate the vehicle, as the pair drove to Mona. The individuals pulled over near a farm, got out of the vehicle and attempted to run from police, Wright said.
The woman, identified as Jessica Lynn Savory, surrendered to police shortly after. The man, Joshua Carl Campbell, hid in a place where he may have hoped the smell would keep police away.
"He attempted to hide in a corral where there was a lot of cow manure that had been liquefied due to the weather we have been having," Wright said.
As Savory was booked into jail, court documents show she told officers they could have been on "America's Dumbest Criminals" because they didn't even get a dollar.
"She definitely didn't think this was their finest hour and she would qualify for that dubious honor," Wright said.
Campbell and Savory are both from Nephi and were arrested on suspicion of aggravated robbery and possession of a stolen vehicle.