This is an archived article and the information in the article may be outdated. Please look at the time stamp on the story to see when it was last updated.
Two parents in Elk Ridge, Utah, accused of giving their infant daughter opioids at the hospital on the day she was born have been arrested, authorities said.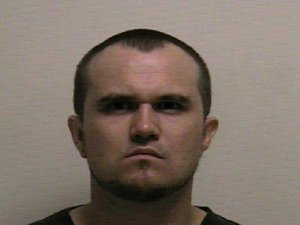 A theft at a Wal-Mart on June 26 is what led authorities to the parents, and tipped them off about the drug crimes — which were discovered after the infant and two other young children tested positive for meth, KTLA sister station KSTU reported on Friday.
Officers from the Spanish Fork Police Department were first called out to a Wal-Mart following a report of a theft in progress, according to the Utah County Sheriff's Office.
Wal-Mart employees said the suspect, 29-year-old  Colby Glen Wilde, went into the store with his 2-month-old daughter.
Witnesses told law enforcement they observed the suspect taking things from a shelf before going over to customer service, where he returned the items as though he had purchased them, according to a news release from the Sheriff's Office. He received cash for the items.
As he tried to leave the store, Loss prevention employees approached him about the alleged theft.
When they confronted him, Wilde then attempted to run away with his daughter in the car seat, authorities said.
He slammed into the sliding doors of his vehicle, dropping the car seat, which rolled several times while his daughter was still strapped in, according to the release.
Wilde grabbed the car seat and ran out another door, hitting a pillar and dropping his daughter again, the release stated.
As witnesses attempted to stop him, Wilde handed the car seat and his baby to a stranger, then ran to his car and sped away, according to deputies.
A deputy caught up to Wilde in a nearby parking lot and took him into custody on suspicion of DUI, heroin, meth, drug paraphernalia and driving without insurance, the release stated.
Felony child abuse and theft charges were later added.
Authorities said 26-year-old Lacey Dawn Christenson — Wilde's common law wife — was in the Wal-Mart with him, along with their three sons, ages 2, 4 and 8.
She was arrested and booked into the Utah County Jail on an outstanding warrant.
Spanish Fork police took custody of the children, and the infant girl was evaluated at the hospital.
On June 28 — two days after the parents were arrested — a woman who went to care for the pets at the couple's home found drug paraphernalia and immediately called authorities.
Deputies found drugs and paraphernalia throughout the home, including next to a bassinet and a child's sippy cup. One of the drugs found was Suboxone, a prescription pain medication also used for addiction treatment.
Authorities learned the two younger boys and the infant girl tested positive for methamphetamine. The infant also tested positive for heroin and morphine.
Deputies added four counts of child endangerment for Wilde and Christenson.
Christenson was released from jail for her warrant on June 28. Wilde was released from jail July 5 after posting a $7,500 bond.
Authorities learned Wilde and Christenson were using drugs again after they were released.
The investigation also revealed Christenson was heavily using heroin and prescription pain medication during her pregnancy. When her baby was born April 9, she was already addicted to drugs.
The parents later admitted to police that Wilde applied some of the crushed Suboxone pills to the infant's gums just after she was born to "mask signs of addiction from hospital staff," authorities said.
Wilde and Christenson were arrested again on July 18 and booked on felony charges, including distribution of a controlled substance in a drug-free zone, possession of heroin and meth, endangerment of a child and possession of drug paraphernalia.
A cash-only bail of $10,000 has been set for Wilde and Christenson.
Meanwhile, officials with the Utah Division of Child and Family Services contacted the oldest boy's father, who took custody of that child.
The father did not want to separate the children from each other, and DCFS approved him to take the other three children as well.