This is an archived article and the information in the article may be outdated. Please look at the time stamp on the story to see when it was last updated.
Four Utah state troopers on Friday went the extra mile to help an 87-year-old woman see her gravely ill son, perhaps for the last time.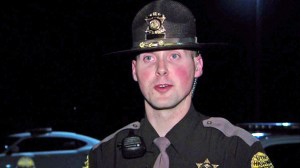 Helen "Skeeter" Smith, who lives in southern Nevada, was on the 15 Freeway and rushing to the hospital in Ogden, Utah, after receiving a phone call that informed her of her son Randy's dire condition, KUTV reported.
That's when the octogenarian was pulled over by Trooper Jeff Jones of the Utah Highway Patrol.
The encounter touched off a sequence of events that led to Smith being escorted to the hospital by Jones and three of his colleagues, who drove her through five counties in their patrol cars.
After the improbable journey, Smith was able to see her son at Ogden Regional Medical Center. His treatment is ongoing, she said.
KUTV's Brian Mullahy contributed to this report.