This is an archived article and the information in the article may be outdated. Please look at the time stamp on the story to see when it was last updated.
Three people were killed, including a 10-year-old girl, after witnesses tell CNN a vehicle crashed into trick-or-treaters Halloween night in New York's Bronx borough.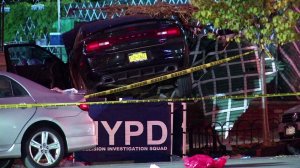 The vehicle, which appeared to be a black Dodge Charger, jumped a curb and went over another vehicle in the Bronx-area crash, CNN reports.
Images of the scene showed the car several feet above the ground and teetering on a wall.
Three people; a 10-year-old girl, and two men, 24 and 65; were killed in the incident, which happened in the Morris Park neighborhood around 5 p.m. Saturday, the AP reports.
The driver, a 52-year-old man, and three others were hospitalized following the incident. Among the injured was a 3-year-old girl who was in critical condition, according to the AP.
One witness said he quickly worked to shield young trick-or-treaters from the bloodshed.
"You just go automatically into a rescue mode. … When I saw the amputated body, I just covered him with completely because I didn't want other kids to see him," the unidentified man told TV station News 12 Bronx.
The cause of the crash was under investigation and reports did not indicate the driver had been arrested.
CNN contributed to this story.