This is an archived article and the information in the article may be outdated. Please look at the time stamp on the story to see when it was last updated.
Video of two journalists being shot at — filmed from a gunman's perspective — was posted Wednesday on social media accounts that appear to belong to the suspected shooter.
Reporter Alison Parker and cameraman Adam Ward of Roanoke, Virginia-based WDBJ were fatally shot Wednesday morning while live on air near the town of Moneta. Vicki Gardner, the woman being interviewed at that moment, was shot in the back and was hospitalized in stable condition.
Law enforcement later confronted former WDBJ employee Vester L. Flanagan on Interstate 66, and Flanagan shot himself, officials told CNN. He later died at a hospital, authorities said.
Flanagan worked at the TV station for about one year as a reporter under the name Bryce Williams. He was fired from the station, according to WDBJ, although the reason was not made public.
A Twitter account using the name Bryce Williams posted a series of tweets hours after the shooting, making allegations and posting video of the shooting.
The same footage of the shooting from the gunman's perspective was posted on a Facebook page, also under the name Bryce Williams.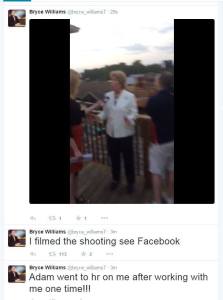 Both social media accounts were suspended within minutes of the hard-to-stomach video being posted.
The video does not show who is holding the recording device. In the footage, you see the camera approach the spot where Parker and Ward were conducting a live shot. The person recording hovers for a few moments just beside where the TV crew is working. The reporter and cameraman don't appear to pay any attention to the person.
Then, a gun comes into the frame, aimed at Parker, and several shots ring out.
A string of tweets — fragments of allegations and claims against Parker and Ward — preceded the video posting.
Another tweet said, "I filmed the shooting."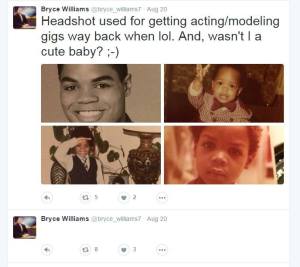 Twitter took down Williams' account within eight minutes of his posting the video, CNNMoney confirmed.
Facebook did not comment on how long it took to take the account down but said it removed his personal profile and his public page for violating its Community Standards policy. Part of the policy prohibits people from "celebrating any crimes you've committed."
The videos were still available on YouTube, where a number of different users had posted them. YouTube, owned by Google, said it was removing videos that were flagged.