This is an archived article and the information in the article may be outdated. Please look at the time stamp on the story to see when it was last updated.
[protected-iframe id="4fd4a55e0c28bb9501383c55c2ec30d8-41641936-52137988″ info="http://i.cdn.turner.com/cnn/.element/apps/cvp/3.0/swf/cnn_embed_2x_container.swf?site=cnn&profile=desktop&context=embed&videoId=bestoftv/2013/10/01/vo-bts-bachmann-king-vet-ww-ii-memorial.cnn&contentId=bestoftv/2013/10/01/vo-bts-bachmann-king-vet-ww-ii-memorial.cnn" width="640″ height="380″]
WASHINGTON — Busloads of World War II veterans, many in wheelchairs, broke past a barricade Tuesday morning to cross into the World War II Memorial, as onlookers applauded and a man playing the bagpipes led the way.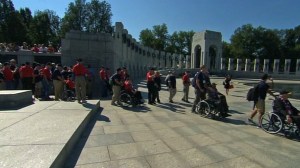 Moments earlier, a few Republican members of Congress had removed a section of the black gates that surrounded the site, allowing a line of veterans to roll past security officers, who willingly stood aside.
Veteran Donald Quinn of Pascagoula, Mississippi, said he was pleased with his visit to the memorial, despite the initial blockade.
"I'm surprised to see so many people here and so many important people, but I've enjoyed it," he said. "At first I didn't think I'd come, but I'm glad I did."
Click here to read the full story the full story on CNN.com.