This is an archived article and the information in the article may be outdated. Please look at the time stamp on the story to see when it was last updated.
As aid workers from around the world descended on the Philippines to help the people hit hardest by Typhoon Haiyan last month, Springer Browne headed toward the devastation for a different reason: the animals.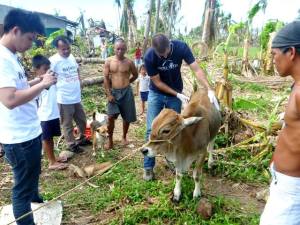 The 31-year-old Newport Beach native made the trip as a volunteer for World Vets, a sort of veterinary equivalent of the humanitarian group Doctors Without Borders, which provides urgent medical care worldwide.
World Vets sends veterinarians to work with animals around the world through various projects based on an area's needs. The nonprofit is one of just a few international aid organizations founded specifically for veterinary health.
"Most people were super-excited" to have medication and food for their pets, he said.
Click here to read the full story on LATimes.com.