This is an archived article and the information in the article may be outdated. Please look at the time stamp on the story to see when it was last updated.
A Boeing airliner crash was caught on video Sunday, showing the plane perpendicular as it crashed nose first into the ground.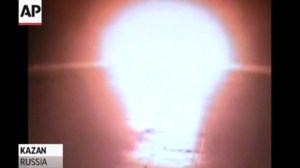 Fifty people — 44 passengers and six crew members — died as the plane exploded into a fireball. See the video above.
The crash occurred Sunday evening in Kazan, Russia. The city is the capital of the Tatarstan republic, and as the Los Angeles Times' Sergei Loiko reported from Russia, among the dead was the son of the president of the republic.
The plane was coming from Moscow and had been making its second attempt to land, the Associated Press reports. Investigators were combing the wreckage on Monday, looking for signs of equipment failure or pilot error. Before making the second, fatal attempt to land, the crew told a Kazan airport air traffic controller that they weren't ready for landing but did not say what the problem was.
Click here to read the full story on LATimes.com.