This is an archived article and the information in the article may be outdated. Please look at the time stamp on the story to see when it was last updated.
An Indiana couple was arrested on multiple charges after police found cellphone videos of an infant playing with an apparent .40 caliber handgun, authorities said.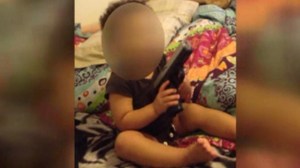 The videos were discovered during an investigation into 19-year-old Michael Barnes after he was arrested last Thursday for allegedly trying to sell a firearm to an undercover officer, according to a news release from the Evansville Police Department.
At the time of the arrest, Barnes had an active warrant for armed robbery, authorities said.
Police detectives and investigators from the Bureau of Alcohol, Tobacco, Firearms and Explosives were checking his cellphone records for evidence when they found two videos of a baby playing with the handgun that appeared to be the one recovered in the attempted sale, the release stated.
The videos, which were released by police and obtained by CNN, showed the 1-year-old girl playing with the gun while voices can be heard telling the baby to say "pow" and "bang" on multiple occasions.
She can also be seen placing the muzzle of the gun in her mouth.
Barnes and the girl's mother, 22-year-old Toni Wilson, were both allegedly present when the videos were made, police said.
When officers confronted Wilson about the video Friday afternoon, she claimed it was a pellet gun, police said.
The baby's mother was later arrested on suspicion of child neglect, criminal recklessness with a deadly weapon and allowing a child to possess a firearm, the released stated.
Barnes faced the same charges, in addition to the ones stemming from his initial arrest that included resisting law enforcement with a weapon and carrying a handgun without a permit, according to the release.
The suspect is not the dad of the 12-month-old girl, but he is the father of 1-month-old twins.
All three children were placed into emergency care as the investigation into the couple continued.