This is an archived article and the information in the article may be outdated. Please look at the time stamp on the story to see when it was last updated.
A woman who arranged for a  Lyft ride in Washington D.C. said she was an unwilling customer during a 15-minute, caught-on-video journey in which the driver refused to stop.
Desiree Taylor and a friend arranged for a Lyft pickup downtown Wednesday night, but things started to go wrong when she asked for the drop-off location to be changed, Washington television station WJLA reported.
"We were just re-routing him, so he would still make it to my destination ... and drop my friend off along the way," Taylor said.
The driver named "Brian" refused the request, which led to Taylor telling him they were going to write a bad review and "that's when he got upset," Taylor said.
Taylor's friend managed to get out of the car, but with the door still open Taylor was taken on a 15-minute ride with the driver saying nothing, according to CNN.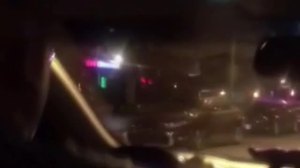 "He didn't stop. He was speeding. The door was open the entire time," Taylor said.
Taylor started recording the ordeal with her phone.
"I don't know where he's taking me. Dude, can you stop? ... The door is open because he won't stop," Taylor can be heard saying in the video.
The ride finally came to an end when Taylor jumped out at a stop sign.
Lyft Spokesperson Alexandria LaManna issued the following statement about the incident:
We are extremely troubled to learn about this incident. We have strict zero-tolerance policy and any behavior threatening the safety of a Lyft community member is not tolerated. The driver's conduct was absolutely unacceptable and his access to Lyft has been permanently removed.
Taylor said she called 911 when she got home but was told there wasn't much they could do because there was not a threat or harm done to her.
"I do want to file charges. I want to press some sort of charge because of what I went through," Taylor said.