This is an archived article and the information in the article may be outdated. Please look at the time stamp on the story to see when it was last updated.
The Orem Police Department in Utah posted a video Monday of a police officer stepping up to help out a father who didn't realize he wasn't allowed to bring his daughter into court with him.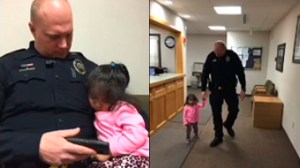 Officer Norris was waiting to testify at a hearing last week when he saw the 2-year-old girl waiting with her father in the lobby, the Police Department's Facebook post read.
The video shows the girl going back-and-forth in the lobby looking for things to do while her father is seated in a chair waiting to be called.
The father was apparently unable to leave the little girl at home, and didn't know what to do when he was eventually told she couldn't go into the courtroom with him.
That's when Norris offered to babysit for the man.
He is seen in the video walking through the lobby holding the girl's hand and watching cartoons with her on his cell phone.
Norris also got the girl drinks of water and treats from the deputies at the door, according to the Police Department.
At one point, the girl even fell asleep in Norris' lap as she waited for her dad to return.
"You can tell that Officer Norris is a father first and police officer second!" the Police Department stated.