This is an archived article and the information in the article may be outdated. Please look at the time stamp on the story to see when it was last updated.
A heartwarming photograph of a Florida police officer taking a quick nap with a puppy he recently rescued has prompted many to praise the officer for his compassion.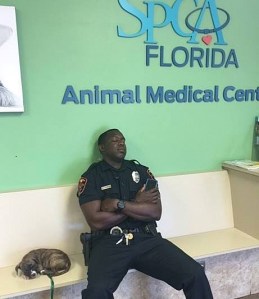 The picture, posted on the City of Lakeland, Florida's Facebook page Monday, shows Officer Kareem Garibaldi waiting to get the puppy — which he named "Hope" — checked out at a Society for the Prevention of Cruelty to Animals medical center in Florida.
Garibaldi, who had just finished working an overnight shift, is sitting in the medical center's waiting room with his eyes closed and the puppy curled up beside him.
The officer found the stray puppy under his patrol car early Saturday morning after almost running over the 8- to 10-week-old pit bull-boxer mix, according to the Facebook post.
After a searching the neighborhood unsuccessfully for Hope's owner, Garibaldi decided to bring the puppy back to the Lakeland Police Department to feed and shelter it.
Garibaldi took Hope home with him at the end of his shift, then posted pictures on social media sites and returned to the neighborhood to look for the owner again the following day.
At the end of his 12-hour shift Monday morning, Garibaldi took Hope to the SPCA to get checked out.
The picture of Garibaldi and  Hope napping in the waiting room was taken during their hours-long visit to the clinic.
"It's the kind-hearted officers like this that makes the Lakeland Police Department truly unique," the City's Facebook post read. "Having worked a long weekend, Officer Garibaldi still found the energy at the end of his shift to help man's best friend."
Later that day, Hope found a new home, according to the post.