This is an archived article and the information in the article may be outdated. Please look at the time stamp on the story to see when it was last updated.
Pictures showing a set of Florida grandparents wearing matching outfits have gone viral after they were posted to Twitter this week.
"I never expected a tweet of my grandparents to go viral," Anthony Garguila,17, told CNN.
Fran and Ed Garguila, Anthony's grandparents, have been married for 52 years, and they have become known for their coordinated outfits.
"It's amazing," Anthony said.
The Garguilas started square dancing several years ago, and decided to wear matching outfits when they danced. After that, it became their thing.
Especially after they showed up to one of Anthony's singing performances last year in Florida — sporting bright orange shirts. Not only were they matching, but they brought their whole square dancing crew along wearing bright orange.
Anthony said he loved it.
"Everybody looks forward to what they're going to wear," Rich Garguila, the couple's son, told CNN.
That includes Anthony, who gets an exclusive preview every morning…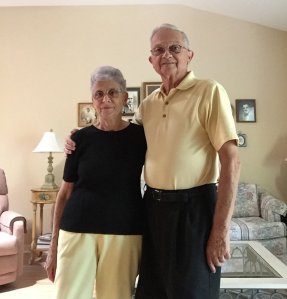 "I wake up to text messages saying, 'Good morning! We hope you have a good day!' — along with the "outfit of the day."
His personal favorite is the "bumble bee outfit" — the one where the Garguilas wore opposing yellow and black pants and shirts.
"It's the cutest thing ever," he said.
It's also indicative of the kind of people they are in general.
Anthony says, "they are the best… my grandfather is 75-years-old and texts me every morning."
"They personify being grandparents and being a couple," Rich Garguila told CNN.
The day after Anthony's viral tweet, he texted his grandparents: "You're an internet sensation."
"Directly after that, they sent me their morning photo," he said.
The text read, "Good morning from your famous grandparents."
my grandparents have been married for 52 years and they match outfits every day. pic.twitter.com/79nCaNuTuD

— Anthony Gargiula (@AnthonyGargiula) August 30, 2016