This is an archived article and the information in the article may be outdated. Please look at the time stamp on the story to see when it was last updated.
Two stars of AMC's hit television show "The Walking Dead" were spotted helping victims of a car crash in Peachtree City, Georgia, on Thursday.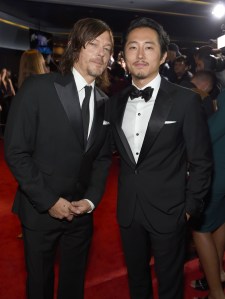 Peachtree City is southwest of Atlanta.
A witness snapped a photo of Norman Reedus and Steven Yeun next to the wrecked cars. The two play fan favorites Daryl Dixon and Glen Rhee, respectively.
"It looked like he was trying to help everybody, kind of calm everybody," Mikail Turan, who took the photo, said of Reedus. "It took me about 5-10 seconds to take these pictures and then the cops came and I'm sure after that, probably, they took off."
"I looked out, [saw] a bad accident and [saw] two motorcycles stop," Ben Wilkie, who witnessed the wreck, said. "I said that [kind of] looks like Norman Reedus. Someone else came out and said, 'Yeah that's him!'"
Police confirm the two actors were not involved in the accident, they only witnessed it. No serious injuries were reported.
"The Walking Dead" is filmed in Georgia.