This is an archived article and the information in the article may be outdated. Please look at the time stamp on the story to see when it was last updated.
A 21-year-old man sought by authorities was in custody Wednesday after he responded to an Ohio sheriff's department's Facebook post asking for the public's help in locating him.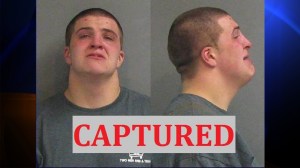 The Butler County Sheriff's Office had originally posted several photos of Andrew Dale Marcum onto its Facebook page on Monday, along with a highlight of his alleged "recent criminal past."
Marcum was wanted on a number of charges, including burglary, safe-cracking, abduction and assault, according to the Facebook post.
Hours after the pictures were posted, a Facebook user named Andrew Marcum responded, "I ain't tripping half of them don't even know me."
The comment elicited numerous responses, including one from the Sheriff's Office. "If you could stop by the Sheriff's Office, that'd be great," the office posted. "Hey, it doesn't hurt to ask."
Richard K. Jones of the Sheriff's Office also took to Twitter, tweeting a photo of a jail cell with the caption, "Hey Andrew Marcum we've got your room ready."
https://twitter.com/butlersheriff/status/572750586275344384/photo/1
Marcum was taken into custody on Tuesday, according to Facebook.