This is an archived article and the information in the article may be outdated. Please look at the time stamp on the story to see when it was last updated.
A group of Washington firefighters who recently battled a blaze at a mobile home put their animal rescue training into action by using a makeshift mask and bag to try to save a family of hamsters.
Lacey Fire District 3 officials responded to reports of a fire in the 6800 block of Martin Way in Olympia (map) around 3 p.m. Friday.
A preliminary investigation showed an electrical fire started when a woman turned on her dryer then left the home to go to a friend's house, Battalion Chief Tim Hulse said.
The woman returned home shortly after responding firefighters began fighting the blaze and informed them that her children were at school, but their pet hamsters were inside.
Firefighters then found two adult hamsters and their three babies next to a marriage certificate filled out using crayons.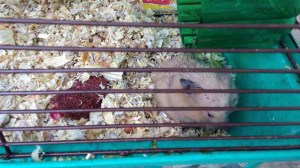 "Apparently they were married… The family had made a marriage certificate for Oreo and Madonna. It was pretty cute," Hulse said in regards to the adult hamsters.
The adults appeared to be OK, but two baby hamsters were sluggish and one was not moving.
Standard oxygen tubing was placed over one hamsters face and two others were put into a plastic bag that was pumped with oxygen.
"We have a whole aid kit we use in house fires that fits dogs and cats. We don't have anything that small, but we're pretty good at improvising," Hulse said.
Firefighters were not able to resuscitate one of the hamsters, but Hulse said he was happy they helped save the other four.
Yes. Our crews are trained and specially equipped to care for animals that have been rescued from a house fire. pic.twitter.com/Vj2lxP2Ybt

— Lacey Fire (@LaceyFireDist3) September 26, 2014
LFD3 currently working a mobile home fire in the 6800 block of Martin Way. pic.twitter.com/JhZZ1bZLD5

— Lacey Fire (@LaceyFireDist3) September 26, 2014