This is an archived article and the information in the article may be outdated. Please look at the time stamp on the story to see when it was last updated.
Investigators found no evidence of a shooting Thursday morning during an hourslong lockdown at a Washington Navy Yard - which was also the location of a deadly shooting in 2013 - after a 911 caller reported hearing gunshots, officials said.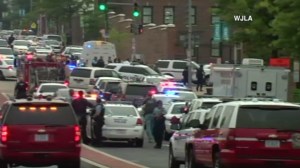 The U.S. Navy confirmed on Twitter around 7:30 a.m. that there was no signs of a shooting after stating two and a half hours earlier that a lockdown was in place.
Heavy police presence could be seen at the location and a street closure was in place, video of the scene showed.
The response came after an  unidentified 911 caller reported shots were fired on the second floor of building 197, the same building where a deadly shooting occurred in September 2013, a source with DC's Metropolitan Police Department confirmed to CNN.
The female caller thought she heard a gunshot and the report was not believed to be "malicious hoax," according to an official at the scene.
Pennsylvania Avenue in front of the White House, which was about 3 miles away from the navy yard, was also closed as a precaution, officials said.
It was unclear when or if the lockdown had ended.
Military contractor Aaron Alexis killed 12 civilian workers in the 2013 shooting. Alexis was shot and killed by police that same day.
#USNavy confirms all clear has been issued at #NavyYard. @NavalDistWash @CNICHQ

— U.S. Navy (@USNavy) July 2, 2015
#BREAKING: #USNavy confirms no sign of shooting @NavalDistWash #NavyYard. All personnel ok. Follow-on NCIS investigation ongoing.

— U.S. Navy (@USNavy) July 2, 2015