This is an archived article and the information in the article may be outdated. Please look at the time stamp on the story to see when it was last updated.
A mother was undergoing a mental health evaluation after driving a van with her three children inside into the ocean in Florida's Daytona Beach, the Volusia County Sheriff's Office stated in a news release Wednesday.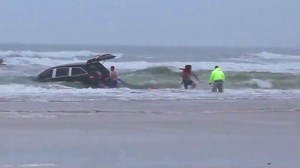 All four family members were safely rescued in the incident, which began about 5 p.m. Tuesday and was captured on video.
A beach safety officer near the beach approach on Silver Beach Avenue noticed a Honda Odyssey with a South Carolina tag driving recklessly.
The van drove parallel to the shore before turning and driving into 3 to 4 feet of water, according to the Sheriff's Office.
Video showed the waves crashing into the van as rescuers rushed to get everyone out of the vehicle before it filled with water.
With the help of bystanders, beach safety officers were able to remove the woman and her three children, including a toddler who was strapped into a booster seat, according to the Sheriff's Department.
The mother was identified Wednesday afternoon as a 32-year-old woman from Cross, S.C., according to the Sheriff's Office.
One witness told WESH that one of the children inside was screaming that their mom was trying to kill them.
"The two in the back seat was crying, with their arms out, saying, 'Our mommy's trying to kill us, please help,'" witness Tim Tesseneer told WESH.
Listen to the full interview on WESH
The mother had been stopped by police several hours before the incident, the Daytona Beach police chief said Wednesday, according to WESH.
Her sister had called authorities and said she was talking about demons before she left the house, police Chief Mike Chitwood.
The woman was pulled over for a well-being check, and she told officers she was going to a "safe place" because she believed her ex-husband planned to hurt her and her children, Volusia County Sheriff Ben Johnson said at a news conference.
Nothing in her behavior allowed law enforcement to take her into custody, WESH reported.
There were no serious injuries from the incident, but the family was taken by ambulance to Halifax Health Medical Center in Daytona Beach as a precaution, the Sheriff's Office stated.
Beach safety officers eventually attached a tow rope to the van and pull it to shore.
The three children were turned over to the care of the Florida Department of Children and Families while the Sheriff's Office and County Beach Safety investigated the incident.
Wilkerson was taken for a mental health evaluation following the incident, according to the Sheriff's Office.
Correction: An earlier version of this story incorrectly identified the mother as a Florida resident. It was not immediately known where she was from, but she was later described as a South Carolina resident.