This is an archived article and the information in the article may be outdated. Please look at the time stamp on the story to see when it was last updated.
A Virginia woman and her husband are facing 30 years in prison for faking her death to go on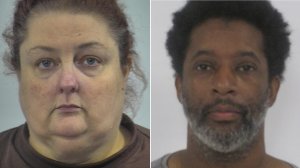 Alexandra Hatcher pleaded guilty Tuesday to federal conspiracy and fraud charges in connection with an elaborate bank fraud scheme, according to KTLA sister station WTKR in Norfolk, Virginia.
According to court documents, the 49-year-old Portsmouth, Virginia, woman conspired with her husband, Albert Hatcher Jr., to collect on life insurance policies the two had obtained to insure her life.
In 2015, the couple submitted false death claims on at least two of them and then went on to buy at least 20 luxury vehicles by using counterfeit checks and forged documents.
Prosecutors say they even created fake death certificates and published a death notice in a newspaper to support the claims.
Hatcher traveled to Washington state and changed her legal name in August 2015, according to the court documents. Hatcher and her husband also re-titled the cars and used them as collateral for loans and other vehicles.
Documents show that the Portsmouth woman used the legal name she adopted just prior to faking her death to purchase, title, and resell vehicles.
Alexandra Hatcher and her husband both pleaded guilty to conspiracy to commit bank fraud, possessing and uttering a counterfeit security of an organization, and conspiracy to commit mail fraud.
They each face a maximum penalty of 30 years in prison, with sentencing for both set for early next year.